Find a property to rent
The largest event on the global music scene
From 2th to 5th June 2020, the largest show on the global scene will be back to Cannes at the Palais des Festivals. In half a century, MIDEM has won a strategic place for professionals. Music, Tech, brands and artists meet to present the latest novelties, sign contracts and anticipate the evolution of a market strongly influenced by the digitalization of media.

High level speakers coming from various trades and brands of the sector shed valuable light and real contribution to delegates . Make your way around the famous Palais des Festivals. You'll rub shoulders with "the best in the world from every genre and business sector of the ever-evolving music industry". That's how the co-founder of 'Whitesmith Entertainment' summed up the MIDEM.
Coming soon all information for MIDEM 2019 by cliking on the following link : www.midem.com
Be smart and carefree for your apartment rental with Cannes Accommodation.
Find your accommodation
High-level speakers to anticipate developments in a constantly changing market
Held annually in Cannes since 1967, MIDEM is the largest B2B event on the global music scene – a creative effervescence of decision makers, state of the art technologies, artists, brands, journalists…
As every year, key speakers have marked MIDEM 2018.
Hartwig Masuch, CEO from BMG
Scott Pascucci, CEO from CONCORD MUSIC
Emmylou Prevett, Creative Content from VEVO
Aurélien Hérault, Chief Data & Research Officer at DEEZER
Julian Marshall, Global Head of Content, SHAZAM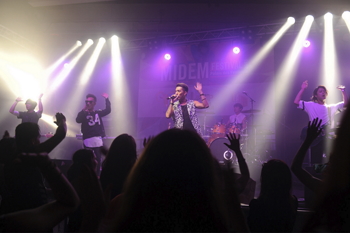 MIDEM 2020, a few key figures of your event
MIDEM is also the most famous brands in the music world among which: Deezer, Amazon, Youtube, Orange, Facebook, Shazam, Vevo, Sony Music. You too, show your novelties, retain your customers and partners, develop new opportunities, do not miss MIDEM 2020.
MIDEM, opportunities by the thousands :
4 800 delegates
80 countries
1915 exhibiting companies
44 innovative start-up pitches
330 keynote speakers
95 thematic conferences
28 concerts