Find a property to rent

For its 31th edition,MIPIM, the global real-estate show opens on the celebrated Croisette
Great location, choice, security… choosing the best MIPIM accommodation allows you to concentrate on achieving the success of your convention.
MIPIM apartment rental guarantees your MIPIM stay will exceed all your expectations. MIPIM features the most exciting projects; access to funding; innovative trends; potential development partners; possibilities for enhancing your business – all in 4 intense stimulating days.
Anders Palmgreen, Head of Corporate Finance, CATELLA SWEDEN, says: "… the number of important players you can meet in a very short time is simply impossible to achieve elsewhere".
Getting the right MIPIM accommodation within a few minutes' walk of the Palais is easy with
MIPIM apartment rental. And that is your guarantee of a winning visit to MIPIM.
Find your accommodation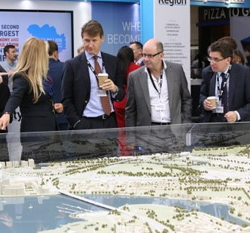 The 2021 edition proposes
18 500 sq m of exhibition area
3100 exhibiting companies
26000 real estate professionals
from over 100 countries
500 cities represented
360 leading speakers and facilitators.
MIPIM is also the famous MIPIM Awards with 11 different prizes. Last year 44 projects from 23 different countries were selected
In 2018, the "Centre Chapelle International" enabled France to stand out from other MIPIM Awards competitors in the category "Best industrial & logistical complex".
Italy also won three awards (Best Business Centre, Best Shopping Centre and Best Urban Renovation Plan)
Belgium won two awards (Best Residential Project and Best Renovated Building)
Germany distinguished itself with its "Catholic social Institute Michaelsberg Abbey" that won the award of the Best Hotel & Tourist Resort and the Special jury Prize
The MIPIM program particularly includes:
The MIPIM Startup Contest, the MIPIM Innovation Forum as well as debates from "Impact of autonomous vehicles on the image, the aspect of the city" to "Smart House of the future seen by the Millennials"
Conference sessions with keynote speakers, like previously Jacques Mezard French minister of the territories cohesion, former President Lech WalesaNobel Peace Prize, or Adora Svitak American writer & speaker involved in the Youth Rights
A new Forum dedicated to Africa
The reputed RE-INVEST Summit, summit of Real Estate Investors
Round-tables & events enabling to approach the notions of equality and diversity in the Real Estate field
You never miss an opportunity for networking, entertaining, influencing when using MIPIM apartment rentals
Get the right combination: choice, reliability, service, satisfaction… all this and more is assured by using us to arrange your MIPIM accommodation.
Essa Kaldari, CEO of Lusull Real Estate Quatar: "MIPIM… only place that you can show your project to others"; Wilson Kwong, CEO, Raffles Quay Asset Mgt, Singapore: "Great networking opportunity for us to reach out to the European and US markets".
At MIPIM "even the most inaccessible people become accessible".

Access the 7 advantages of MIPIM apartment rentals for your business