Find a property to rent

MIPTV 2019, the most anticipated event for TV and audiovisual content
MIPTV 2019 will take place from 8th to 11th April 2019 at the Palais des Festivals. Each year at Cannes MIPTV brings together all professionals in the TV industry. This is the major moment of the year for professionals.

MIPTV will celebrate its 56th anniversary in 2019. It has truly become the n° 1 global market for audiovisual content.
The television universe has exploded to embrace interactive TV, multichannel packages, mobiles, cinema, internet, pads, publicity… and it goes on growing with every new innovation. On the menu, signing new contracts, negotiating distribution and co-production agreements, sealing partnerships, monitoring market trends and discovering new content Each year the event brings together more than 10400 professionals.
Don't miss MIPTV 2019, book your apartment near the Palais des Festivals with Cannes Accommodation
Find your accommodation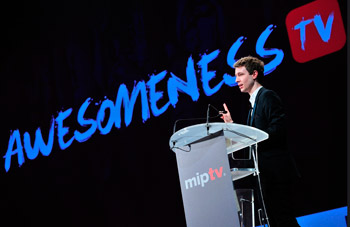 Key figures of MIPTV, a success just like a dynamic market
You will meet distributors, buyers, producers, directors, studios, tech companies, brands, corporate users, entertainment networks, on-line platforms, media...
A dazzling, accessible array of industry decision makers, innovators, strategists, journalists…
MIPTV and its key figures:
10 435 delegates
1 462 exhibitors
3 800 buyers
1 104 digital platforms
100 countries.
These figures show why MIPTV is the most anticipated event for professionals in the audiovisual industry. A winning combination guarantees the success of your MIPTV 2019: Comfort, proximity to the Palais des Festivals, security, services..
Programme and more information on the official website:
www.miptv.com
CANNESERIES from 5th to 10th April 2019, an event in the heart of MIPTV
Since 2018, CANNESERIES is an international competition aiming to promote and reward the series and talents of tomorrow.
Series of all kinds and lifetimes find a great exposure to the public and professionals. From 5th to 10th April 2019, CANNESERIES official competition will present the 10 best new series in the world. Series screenings in official competition and non-competing are free and open to professionals and to the public. The winners and the closing ceremony will be broadcast live on Canal +.

Find CANNESERIES on the official website: canneseries.com/