Find a property to rent
Home page
| 7 advantages for you of renting a Cannes apartment |
An appointment with the wines of Cannes
An appointment with the wines of Cannes
Bruno Draillard, Tuesday 24 March 2015, 9h15
The air is warm, the sea is resplendent, the pastel colors inspire a feeling of calm and well-being. What peace! What a contrast with the day before, spent in the animated surroundings of our Cannes offices.
Patrick Flet (gastronomic journalist), Sophie, Monique and I have an appointment with the wines of Cannes.
On the boat, I meet an old comrade, a well-known entrepreneur. Marc Dussoulier has sold a flourishing catering business in order to share with the Order of the Lerins Monks, the management of the restaurant, La Tonnelle, on the isle of St Honorat. In the familiarity springing from our getting together again, he lets me into a secret: each day, this leisurely crossing allows him to recharge his batteries and to see Cannes in another way.
Cannes in another way…

Cannes, land of vineyards
Among the many attractions of Cannes, just offshore from the Palais des Festivals and the Croisette, the Îles de Lérins represent a unique cultural and natural heritage. At no more than a few revolutions of the boat's propellers (15 minutes), lies the site of the Ile Saint Honorat, the smaller of the two Lerins islands. This "other face of Cannes" demands respect.
It is reputed for its Abbey, and not less so for its vineyards that the monks have exploited, with a great deal of talent, since the 16th century. From the 8.5 hectares of vines, they produce 7 excellent red and white wines, appreciated by Michelin-starred chefs and wine buffs alike. In addition, since the last century, they have acquired expertise in the blending of liqueurs, which they market in 6 varieties known and appreciated the world over.
A half-day trip for a guided tour, followed by a tasting session accompanied by a commentary, is an absolute must, a source of serenity, pleasure and gastronomic meditation, with genuine moments of inspiration.
Patrick Flet, Cannes, Tuesday 24 March 2015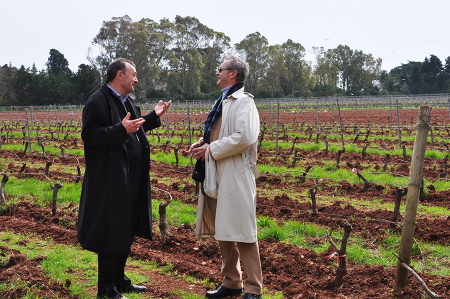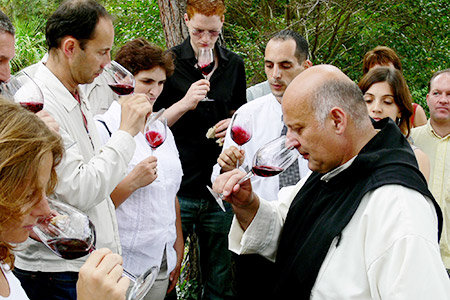 A singular combination of local conditions of soil, site and micro-climate nurture a vineyard of exception
Cellars of Saint-HonoratOn Saint Honorat, it's all a tiny miracle of Mother Nature. The vines are planted in a limestone-clay soil, silt-laden, sandy and rich in organic vegetable matter. The site is exposed to strong maritime conditions, but protected by a delightful forest of maritime pines and eucalypts.
As far as the techniques of plant husbandry are concerned, the Cistercian monastic community of the Lérins Abbey practice farming methods that respect the land: neither pesticides, nor herbicides, nor chemical fertilizers. Pruning, disbudding and harvesting are all carried out by hand. As a result, some 40 000 bottles are produced annually and stored in the Abbey's cellars.
The vineyard is divided into several plots and the local conditions permit the cultivation of a number of grape varieties: syrah, pinot noir and mourvedre for the reds, clairette, chardonnay and viognier for the whites.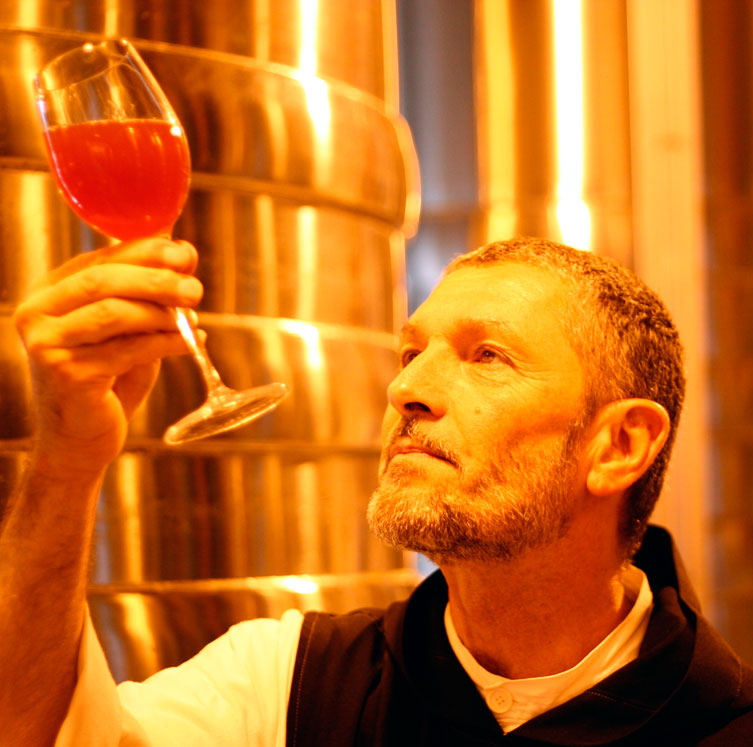 Seven exceptional vintages
Blessed by the gods, all these wines, whose quality goes on improving, are regularly served to members of the Film Festival Jury, and at exceptional events such as the Meeting of Heads of State for the G20.
The 4 red vintages of the domain can be tasted on the premises:
Saint Honorat, 100% syrah, with berry fruit aromas and grilled and spicy notes;
Saint Sauveur, 100% from old syrah vines, permitting a more complex wine with powerful aromas of well-ripened red fruits (double Gold medal at the 2014 Sakura Awards);
Saint Salonius, 100% pinot noir, a fine, delicate wine aged for one year in oak casks, showing black fruit fragrances;
Saint Lambert, 100% mourvèdre, a Provençal scrub (garrigue) wine, aged for one year in oak casks, rich in notes of ripe black fruits, spices and leather with silken tannins.
Then there are three exceptional whites to be discovered:
Saint Césaire, 100% chardonnay, aged 9 months in oak casks, opulent, with notes of flowers and candied citrus fruit (Silver medal at the 2014 Sakura Awards);
Saint Pierre, a unique assemblage of clairette and chardonnay giving an elegant wine, fruity, with notes of peach, apricot and honey; last but not least,
Saint Cyprien, 100% viognier, ample, perfumed with fruit and flower aromas.
Liqueurs and olive oil
Master blenders of liqueurs for more than a century, the monks have elaborated their own range, including the celebrated green or yellow Lerina, a blend of 44 plants macerated in alcohol. Among other liqueurs much appreciated are the "Mandarine" and the most recent introduction, the "Lerincello", obtained after a long maceration of Menton lemons. In harmony with the vines, some 200 olive trees supply the monks with 500 liters of oil, which they market in the shop at the Abbey and at the "La Tonnelle" restaurant, which figures among the excellent tables of Cannes.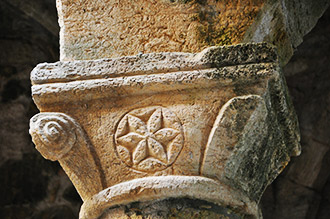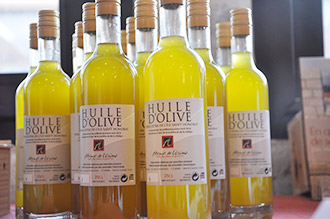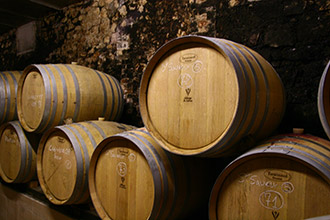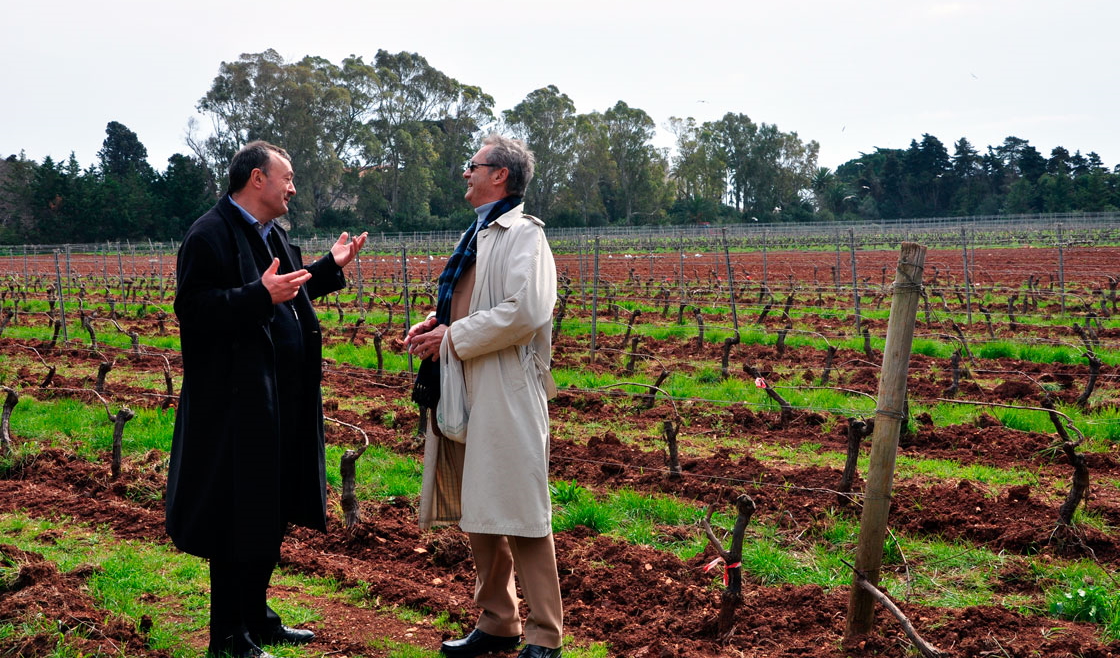 All in all, more than enough reasons to make the trip to Saint Honorat. It's a real privilege... But, at a price that is not especially angelic!
The monks will quickly have you convinced that the high prices of their wines (between 23 and 230 €) are an inevitable consequence of their qualities, similar to the great Bourgogne vintages. All that remains is to add their rarity, since the Abbey produces limited quantities. And one can almost give the monks absolution! Even award them a "Palme d'Or"! Fully deserved indeed, when one recalls that the monks had granted one of the palms of their coat of arms to the city of Cannes for its own blazon, a palm then transmitted by the city to the Festival du Film... Enough said! Ite missa est (mass has been said)…
Contact Lerins: 04 92 99 54 00