Find a property to rent
Home page
| 7 advantages for you of renting a Cannes apartment |
Cannes restaurants - Advice and selection of good addresses
Cannes restaurants - Advice and selection of good addresses
Reflecting its location at the heart of the French Riviera, Cannes has a taste of sea and sun. Bedecked in blue and gold, the City has a perfume of warm sand and can be savored all the year round - in the words of the poet Stephan Liégeard, (inventor of the phrase Côte d'Azur): « Cannes' cuisine is like a slice of sun on a cloth of blue sea »
Choosing a restaurant: the eternal dilemma!
Supply exceeds demand… Almost 600 restaurants in the Cannes basin! We have the good fortune in Cannes to be in the land of the Film Festival and a number of other major events with worldwide reputations - many are the chefs who dream of achieving similar fame in their chosen profession. Do you know them? As Paul Bocuse loved to say: "There is only one cuisine, the good one!". In that case, let's talk uniquely about that, because there's nothing like a good meal to ensure a convivial and pleasurable start to your stay in Cannes.
Some of the best tables meriting a place in a select register of Cannes' culinary assets.
Each of them represents excellent value in its category. For 2020, we would willingly award them a culinary golden palm! They prepare "homemade" cooking, a fresh, seasonal cuisine with local products. Here we go then, all the taste of Cannes in 37 addresses, arranged in 9 categories according to what you are looking for: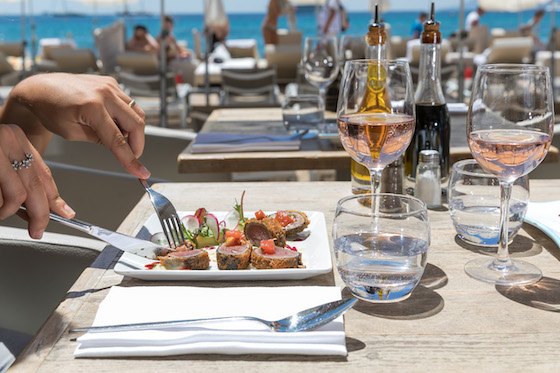 A table with a view
The '360' at the Radisson Blu
Without any argument, the most beautiful panoramic view of Cannes!
All you could wish for in elegance and romance, the restaurant-bar-lounge is on the rooftop 7th floor. From there you can admire sunsets of shades of red, orange and pink richer than a ripe and juicy mandarin! Chef, Reynald Thivet, makes it his business to propose a Mediterranean cuisine at a reasonable price. (30-60€).
2, bd. du Midi Jean Hibert - Tel: 04 92 99 73 10
The 5th (rooftop) floor of the Five Seas Hotel in central Cannes renamed "le Roof", featuring a relaxed bar-brasserie area together with a chic gourmet restaurant putting the emphasis on 'fusion food', with admirable success. (30-60€).
1, rue Notre Dame - Tel: 04 63 36 05 05.
Bistro-style
Opposite the Palais des Festivals, it is the choice of stars of the silver screen, the art world and show-business. Boasting a never-out-of-fashion chic, an atmosphere in the grand tradition of the Parisian brasseries, an experienced chef Pierrick Cizeron, with an impressive international career, a bar run by one of the best bartenders of his generation, Emanuele Balestra, a pretty terrace beside the pool, and an extensive and imaginative Mediterranean menu signed Pierre Gagnaire , - all elements brought together in perfect alchemy. (40-80 €).
10, La Croisette - Tel: 04 92 98 77 05
A few steps to Marche Forville, Guillaume Arragon, "Maître-Restaurateur", is the proud owner of this bistro where he offers a menu based entirely on local produce and the day's catch of fish. (30-50€).
10, rue du Dr. P. Gazagnaire - Tel: 04 93 68 72 02.

The best Lyonnais bistro in Cannes! An astonishing wine cellar-restaurant, run by a man who aimed for the stars and who today gives free rein to his passion, presenting the very best of Bourgogne vintages from his absolutely exceptional cellar and simple, hearty dishes of cooked meats from the Lyon region (plats bourgeois-canailles). It makes you want to take up wine-tasting! (30-50€).
20, rue Commandant Vidal - Tel: 04 93 68 66 18

An exemplary eating spot! A valiant chef, a credit to his profession for his menu crammed with local flavor, at unbeatable prices, served by members of his own family. Here you find a soul and a spirit, that of the masters of the house! You'll come away enchanted! (20-50€).
60, Bd. d'Alsace - Tel: 04 93 43 32 19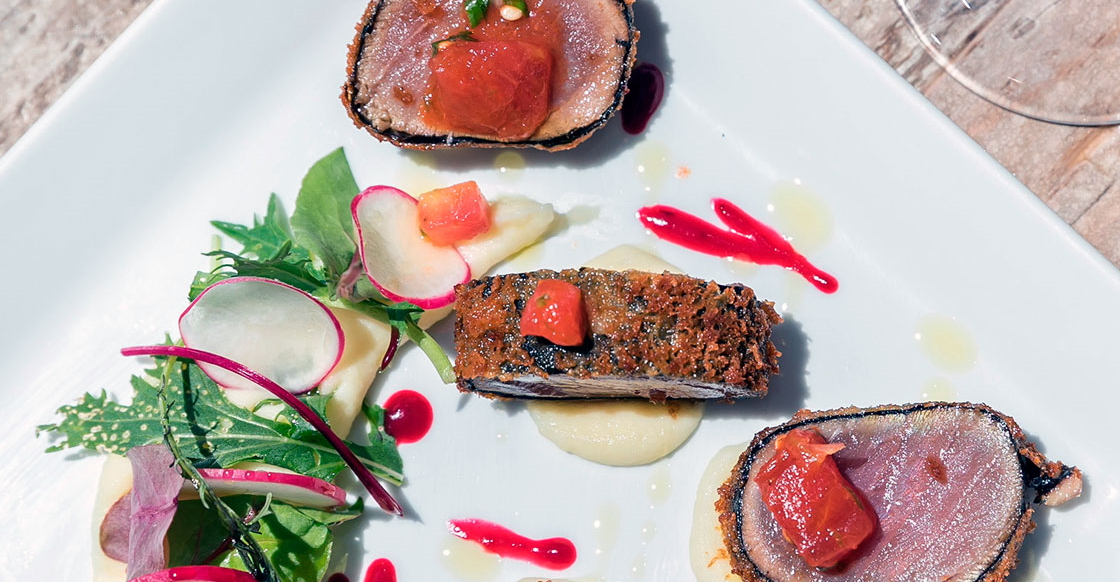 To satisfy even more clients, Christophe Ferré had the excellent idea to open a second restaurant behind the courthouse. On the verandah, you'll feel as if you are in a country house. You will enjoy dishes prepared with enormous care from genuine local market produce. (20-40€).
12, av. Saint Louis - Tel: 04 93 38 60 28

Noël Mantel is among the cream of our chefs. From Alsace, he is an original member of the "Ducasse gang", installed in a pretty house in Le Suquet, where he proposes a chic Provencal menu. You may also enjoy his tasty dishes at a more central address, "Cannelle", at the Gray d'Albion. Difficult to choose when everything is good! (35-70€).
22, rue Saint Antoine - Tel: 04 93 39 13 10

Latin name meaning "grape", it's a new bistro and wine cellar at the same time, created by the dynamic Noël Mantel. He partnered with two childhood friends who worked with him alongside Ducasse. Seasonal quality products live from the Forville Market, a casual and joyful atmosphere, an address that has become a must. (40 € à la carte price).
13, boulevard de la République - Tel: 04 93 68 57 01

In an old Le Suquet house, dating from the end of the 17th century, the cooking aims to match the decor in its refinement - traditional dishes with a Provencal accent. (25-50€).
9-11, rue Saint Antoine - Tel: 04 93 39 22 32

Right in the center of Cannes, in a vast dining room with contemporary decor. City dwellers are regulars, appreciative of the imaginative preparation of traditional dishes, full of surprises, reflecting the best of the day's market produce. This has been going on for 15 years, and the arrival in the kitchen of Didier Chouteau (formerly L'Amandier de Mougins) is a guarantee for the future. (25-50€).
5, rue Lafontaine - Tel: 04 93 68 02 09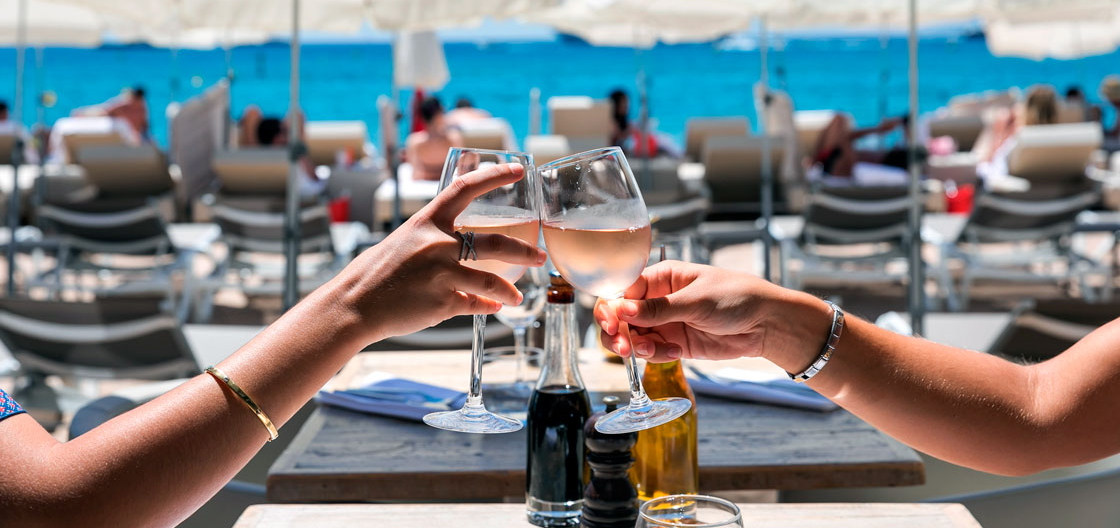 A beautiful tribute to the Mommy Sparrow! A chic and casual setting, designed by the twins Ugo and Antoine Lecorché, well known in Cannes. This is not their first success. They have now also opened a cocktail bar and a beach (under construction until May 2020). The fine cuisine magnifies the Mediterranean and Italian flavors. (40-60 €).
6, Impasse Florian - Tel: 04 93 38 60 95

An eminently pleasant bistro, featuring les plats canailles, dishes based on cooked meat specialties from the Lyon region. It is run by two dynamic associates, Carole the brunette and Lysiane the blond, who joyously provide service and ambiance. (25-45€).
12, rue Jean Daumas - Tel: 04 93 68 12 10

They are part of the new generation of interesting addresses. The ambiance is chic and the cuisine Mediterranean with meticulous attention to detail, put together by a young couple passionate about their work, Arnaud Pradas in the kitchen and Sandrine Greca in the dining area. (20-40€).
4, rue Marceau - Tel: 04 93 39 82 67
On the beach
In Cannes, they say the season lasts all the year round…, a major facelift of the beaches of the Croisette is underway. The work will be completed in June 2020. Some have already been reopened. So even in the midst of winter, lunch with feet in the sand is highly sought after by beach lovers.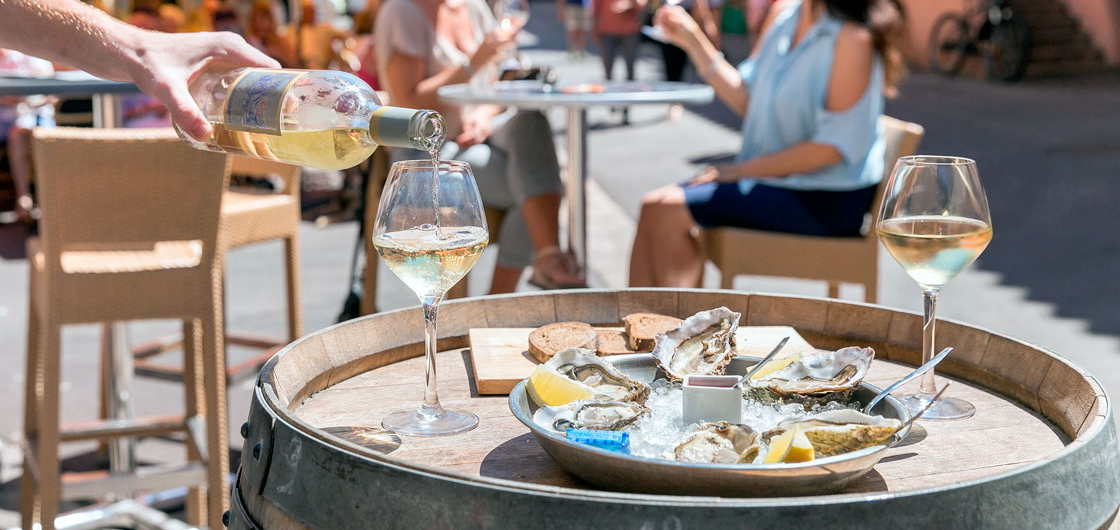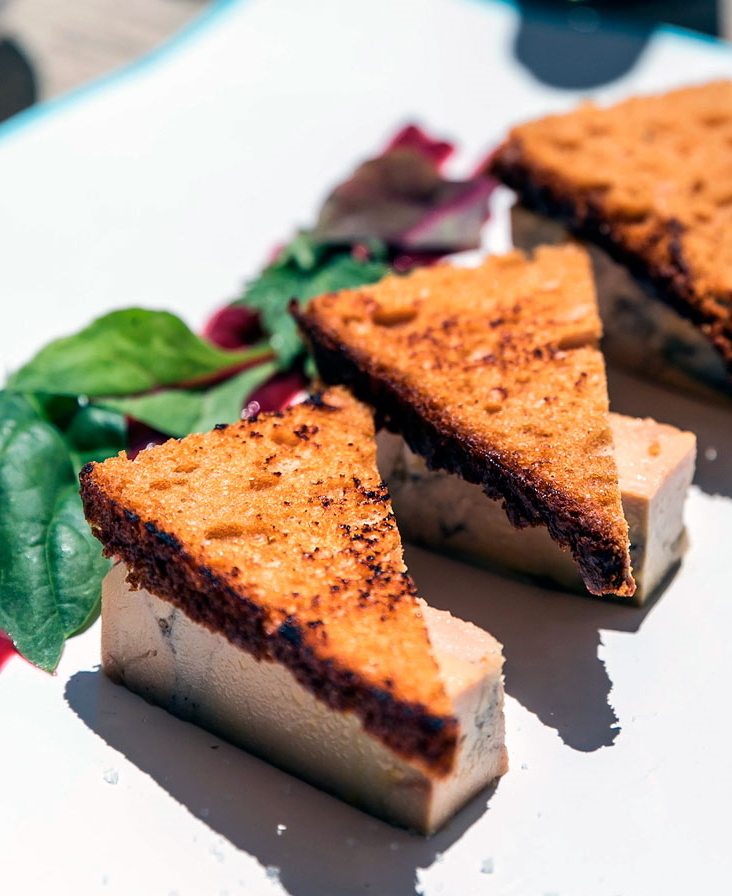 Beach tables
La Plage Majestic Barrière:
It's the biggest with the most chic, completely renovated to meet the latest ecological norms. For lunch and dinner, the restaurant BFire by Mauro Collagreco (voted the best restaurateur in the world) has something to attract grill lovers. (50-90€).
Tel: 04 92 98 77 32
On the famous Croisette, after the works period, the enchantment of the setting will be as magic as what you find on your plate. The chef, François Vadala, who did all his training in the kitchens of top chefs, presents a highly inventive menu daringly mixing local produce, Italian touches and exotic flavors. (40-60€).
La Croisette - Tel: 04 93 39 37 37
Managed by the Hotel 3.14, next to the Carlton, the cuisine is organic and gluten free, the wine list also. As its slogan says, "here, you feel elsewhere" thanks to a kitchen with accents and colors of the South in an international version. A table that wants us feel good! In season, you can even learn yoga on Sunday morning. (30-50 €).
The Croisette - Tel: 04 93 94 25 43
A little further along, opposite the Carlton, Cécile Blanc, owner and Maître Restaurateur of this restaurant, uses all her talent to create a loyal following of local people for her beautifully presented and generous dishes, featuring a truly modern and lighthearted Mediterranean cuisine. Sun-beds, a beach lounge and children's play area are all included. (30-50€).
61, La Croisette - Tel: 04 93 43 67 05
An elegant beach table that seduces you with a menu between classic, tradition and modernity, translated into Russian. We also love the eloquent "cellar book" designed by an experienced sommelier, who never misses his food-wine pairings. (50-90 €).
La Croisette - Tel: 04 93 94 24 74.
Located after the Old Port, this family beach, held by Grégory Chailloux, Maître Restaurateur, shows an intimacy side. Far away from the hustle and bustle of La Croisette, its cuisine is firmly rooted in local terroir, and the fish of the Lérins Sea are the guarantee of great freshness. (30-60 €).
Boulevard Jean Hibert - Tel: 04 93 39 99 87.
Restaurants with a past
Once through the door, there's no Starck, nor Grasset! Leaving 'design' behind, you find yourself in settings proud of their origins, their decor recalling their past, still able to accommodate an episode of Sherlock Holmes, or a scene from the post-war boom years (the Trente Glorieuses as the French call the period).
Founded in 1935, you'll still find good family cooking based on local produce deliciously prepared. One of the very best price-quality-pleasure combinations you can hope to find! (20-35€).
80, rue Meynadier - Tel: always been out of order!
The oldest restaurant in Cannes! It was founded by Alexandre Da Bouttau in 1860. It was in these mythic premises that first emerged in 1946 the idea to create a Festival of Film in Cannes. An elegant setting, full-flavored Provencal specialties, a jazz lounge in the ancient cellars … all the ingredients for a great evening. (30-50€).
10, rue Saint Antoine - Tel: 04 92 99 27 17
It's an institution, first-opened in 1920, devoted above all to oysters and shellfish, with a take-away service to boot! The temple of "pearly gold" (l'or nacré), standing for the best and the freshest. Every time you lift the elbow, the tide comes in…, a sensation the Parisian poet Léon-Paul Fargue (1876-1947) interprets so well in his line, "on a l'impression d'embrasser la mer sur la bouche" (...impression of kissing the lips of the sea)! (30-60€).
27, rue Félix Faure - Tel: 04 93 39 06 22
À La Potinière du Palais:
For 3 generations, this Potinière* has literally taken over the northern edge of Square Mérimée, opposite the Palais des Festivals. The young Larry Dupuis and his Chef, Ludovic Gricourt, who both experienced the discipline of working under Alain Ducasse in their early days,
strive for a Mediterranean contemporary cuisine with a taste of today, lighter, with an emphasis on organic ingredients and without gluten. All that, in a pervasive family atmosphere, at reasonable prices, an approach that suits both his Cannes regulars and festival-goers. (15-30€).
13, Square Mérimée -Tél: 04 93 39 02 82.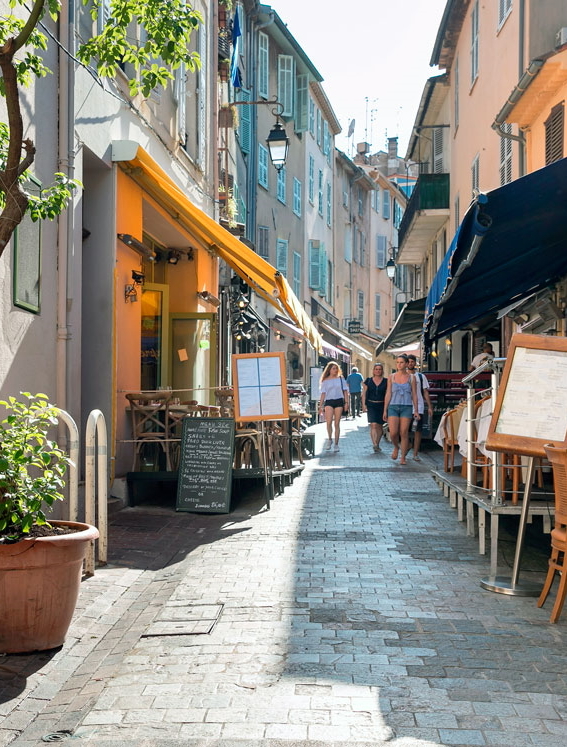 Pocket editions
Small in size, but rich in the cuisine they offer. You may feel a tiny bit squeezed, but it's so good to be there, enjoying the company of lovers of fine food. They come because they appreciate the chef who officiates in his tiny open kitchen.
This address is unpretentious, almost secret, the table simple and welcoming, the cuisine generous. Nothing but the best from the four corners of the Forville market. All good sense and honest prices.
82, rue Meynadier – Tel: 04 93 38 94 95
A tiny discrete restaurant on the edge of Forville market, where the young chef has the art of marrying Mediterranean flavors with his favorite spices from all over the world. (30-50€).
11, rue Louis Blanc- - Tel: 04 93 39 68 08
This is the table that goes up, with the recent arrival of Eric Houard, a former Roger Vergé and faithful companion of Alain Llorca, The restaurant is elegant, friendly, works of art in decoration, a small lounge area upstairs, everything to feel good! The chef cooks local and seasonal, between Corsica and Provence, around several formulas well inspired (24 to 46 €).
Tel: 04 93 99 48 71
Food from elsewhere
Cannes is Festival country, and as such it is also "host country" for world cooking … strongly represented by the Italian food. Here are several tables worth a visit.
Located between the rue Félix Faure and the Alleys, Robert Tripodi, Calabrian origin, generously prepares for his customers some Sicilian specialties, fish from the Imperia market and grilled vegetables. Large terrace, beautiful room upstairs, and a discreet balcony (with breathtaking views of the Suquet). (20-40€)
2, rue Félix Faure- Tél :04 93 38 57 39.

An ever-fashionable Italian pizzeria, frequented generation after generation by a loyal clientele from all around the world. An atmosphere of summer at all times of the year together with efficient service are just two of the plus points of this establishment that has remained true to itself over the years. (20-40€).
68, La Croisette - Tel: 04 93 43 33 09

One of the smallest and most authentic Italian restaurants in Cannes - everything to please, with a selection of the best products of southern Italy. (20-30€).
Tel: 04 93 38 40 51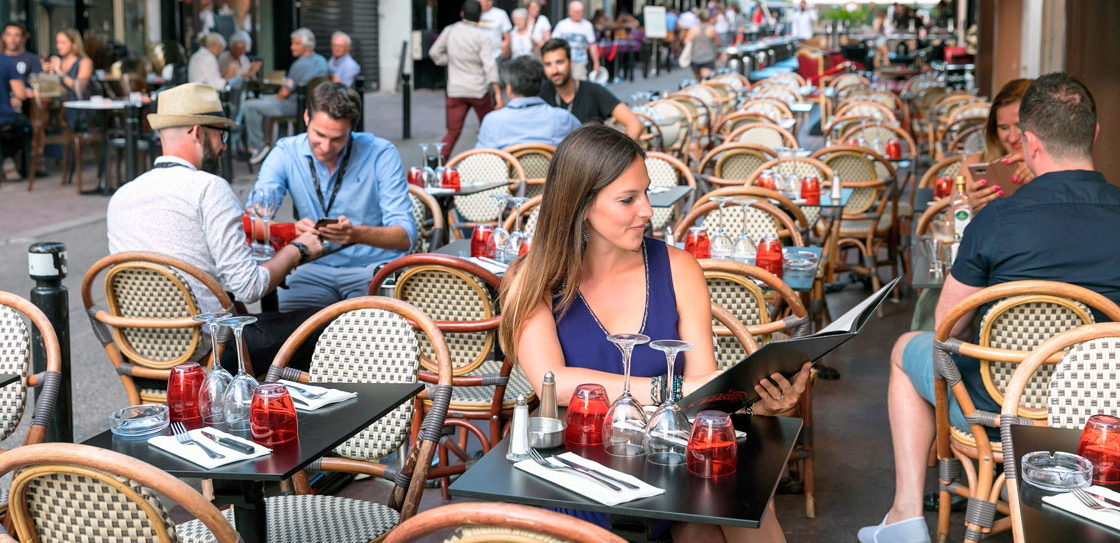 Sweet and savory
The creativity of the pastry chefs has become a trend to be followed, to the point of competing with the 'savory' chefs. On the local culinary scene, don't neglect:
Lyonnaise by origin, good-looking to boot, 2009 world champion pastry chef, Jérôme de Oliveira has a marked talent for following the tastes of his clientele and at the same time for surprising them. The nec plus ultra of the pastry boutiques, with an attractive Sunday brunch. (20-40€).
22, rue Bivouac Napoléon - Tel: 04 63 36 05 07
On the first floor above the celebrated master's pastry shop, a cozy stopover amidst rich and refined dishes full of Mediterranean feeling. (20-40 €).
63, rue d'Antibes - Tel: 04 97 06 67 65
The un-classifiables
At the foot of the harbor master's building at Port Canto, it's a 'no-frills canteen', emphasizes the patron, Jean Paul Antonioli. Somewhere between a private eating house and a refectory for 50 guests, originally reserved for sailors, crews and amateur yachtsmen from the Port Canto, it is today open to the general public, with a 12,50 €- lunch chalked on the slate, as succulent as it is copious and served in a down-to-earth, good-natured way. It is sometimes necessary to queue if you haven't reserved. (10-20€).
Port Canto – Tél: 04 93 43 28 08
On the Ile de St Honorat and run by the Lérins islands monks. You take the ferry operated by the monks to reach this little corner of paradise. The specialities are obviously Mediterranean and so appetizing and generous they give you envy to complement the meal with one of the several liqueurs produced on-site, a Lérincello, a green or yellow Lérina... In moderation of course… to be forgiven! This timeless oasis is open only for lunch. (30-50€).
Ile Saint Honorat - Tel: 04 92 99 54 10
On the spot at the Marché Forville
There is frankly enough to make a meal with delicious specialties freshly prepared each day without having to sit down to table,.
"Soupe de poissons Forville" by Alexandre Serre:
On the Forville market, every day, at 6 am, 6 days a week, Alexandre Serre, former Oasis in Mandelieu and the Hermitage in Monaco, prepares fresh fish soup. It has the label "Mer de Lérins". Tasting bowl 5 € with croutons and aioli.
Cooks all morning soccas, which are savored around the Axel Sigrist wood oven, able to tell you the story of this famous pea-chick cake (original Italian) and prepared by the minute, and on sale to take away. 2,50 € per slice
« La Coulée Verte de la Vallée de la Siagne ", Ecogerme's specialty:
In the Lower Valley of Siagne in Mandelieu Daniel and Denise Basle are specialized in the production of organic sprouts. Every weekend in Forville, they make fresh fruit-vegetable juice preparations. From 4 to 8 €.
"Small fry of sardines or fish according to the market, and calamari" by Celia, the wife of the fisherman.
For lovers of hot fritters, the fishing of the day is cooked by the minute or to take away. From 4 to 6 €.
... Add to this, the fritters of zucchini flowers, also sold on the market, this is a good way to learn more about the gastronomy of Cannes.
The cast of Cannes' top chefs
They are the pillars of Cannes gastronomy. They have an immense know-how that underpins & enhances the prestige of the top hotels along the Croisette.
They are the virtuosi of taste, adepts of meals on a theme, creators of flavor, who champion, throughout their fixed meals, their menus, their buffets and their brunches, a cuisine firmly rooted in the savors of the South.

- Christian Sinicropi, a native of Cannes, formed by Christian Willer, a poetic chef with a golden touch, who has been able to preserve the 2 Michelin stars of his predecessor, by developing a cuisine illuminated by the sun, as creative as it is sophisticated, bringing honor to the gastronomic restaurant " La Palme d'Or" and, with ingenious touches, to the two bistros "Version originale" on the ground floor and "le Jardin" a terrace outside the Hotel Martinez. His special characteristic: a cuisine that plays, with considerable effect, on culinary design.
(Tél : 04 92 98 74 14)
- Hervé Busson : He has progressively succeeded in famous restaurants of the Côte d'Azur, he is now Executive Chef of the Grand Hotel on the Croisette. His cuisine is at the top of the bill, mastered, subtle, inventive, stylish, a promising Chef practicing the art of good Provencal taste at an affordable price.
(Tel: 04 93 38 15 45)
- Pierrick Cizeron : Accustomed to brigades, full of new ideas every day, his cosmopolitan experience, associated with the culinary genius of Pierre Gagnaire, brings a premium touch to the Fouquet's Hotel Majestic Barrière, in line with the great Parisian bistros. He is also at the origin of the southern cuisine of La Petite Maison, in the heart of the palace.
(Tel: 04 92 98 77 05)
- Arnaud Tabarec : A recent super-chef installed on the rooftop of the Hôtel Five, trained by Lameloise and Antoine Westermann and already with a star to his credit. His cuisine innovates between Provencal tradition and modernist trends in assemblage in the realm of finger food and barbecue.
(Tél : 04 63 36 05 06)


- Laurent Bunel : Protégé of Bernard Loiseau, he has loyally officiated at the Hôtel Carlton for 18 years. Equally at ease with his weekly thematic menus, with banquets in the grand French tradition, or with in-room menus, he understands the minutest requirements of a demanding cosmopolitan clientele.
(Tél : 04 93 06 40 06)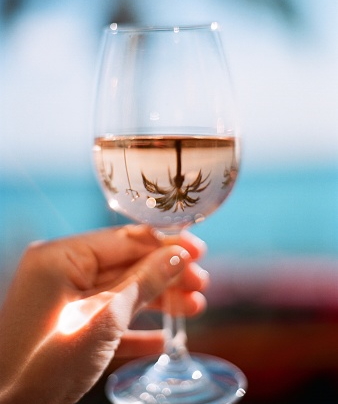 Your very good health!
All these tables and their chefs have one point in common!
They see life 'en Rosé'… of Provence, wines setting the trend, divine, fruity, sun-kissed, just a few miles from Cannes. Without risk of being chauvinistic, they are appreciated for their splendid balance between maturity and freshness.
In their prime, they are elegant, exquisite and light as air, with a flowery nose, generous and suave with accents of red berries and notes of citrus and exotic fruits according to the local conditions of climate and soil. Wines which marry divinely with the Cannes cuisine, wines of pleasure.
Under the single appellation "Côtes de Provence", you can find 850 different wines from some 400 recognized vineyards. Would you like a few reputed names?

Some splendid vintages that you will discover in the wine lists of our restaurants:

Château Sainte Roseline, Château Mentone, Domaine de la Laidière, Château Thuerry, Château de Berne, Domaine du Jas d'Esclans, Château La Calisse, Château la Font du Broc, Château Miraval, Commanderie de Peyrassol, Domaine de la Croix et de la Bastide Blanche, Château Roubine, Château Rasque, Château de Saint Martin, Les domaines d'Ott of course…
A special mention as well for the sacred wine of the Abbaye de Lérins, produced on the Ile de Saint Honorat…

All these Châteaux produce gastronomic rosés, whites as well, and reds for laying down.
Whether they be grand chefs, restaurant owners, or simple cooks, all these Cannes professionals, ever ready to cross swords in a round of pétanque, contribute together to ensuring the reputation of Cannes as a city of gastronomy and joy, where they make it a point of honor to welcome you with a conviviality 'toute azuréenne'.
Patrick FLET for Cannes Accommodation
Independent gastronomic journalist
Author of the book "La Cuisine Cannoise"
*Of course, this is far from being an exhaustive or definitive selection. Many other Cannes tables boast an excellent cuisine and a warm welcome. They all contribute, day after day, to the fame of Cannes and the enjoyment of its visitors!