Find a property to rent

The Regates Royales 2019 – Panerai Trophy, the most stylish race in the world
Each year the Cannes Yacht Club organises the Regates Royales – Panerai Trophy in the magnificent setting of the Bay of Cannes. From 22nd to 29th September 2019, the cream of the crop of world navigation meets in Cannes to offer you a fabulous show.

The first edition of this regatta series was held in 1929, in honor of King Christian X of Denmark, who was at the helm of his very own full-rigged ship. Nowadays, the aces of the high seas have replaced the crowned heads, but the original spirit remains intact: elegance, competition and excellence. Legendary boats among the most famous come to do battle.

Among them Elena of London (55m, plan Nathanaël Herreshoff built in 2009), Cambria (40m, plan William Fife built in 1928), Sunshine (38m, plan William Fife Junior built in 2003), Aschanti IV (34,67m, plan Henry Gruber built in 1954), the two Moonbeam of Fife (30m, plan William Fife built in 1903) and Moonbeam IV (35m, plan William Fife built in 1914) or the 15mJI Mariska (27,00m, plan William Fife built in 1908) and many others…
Find your accommodation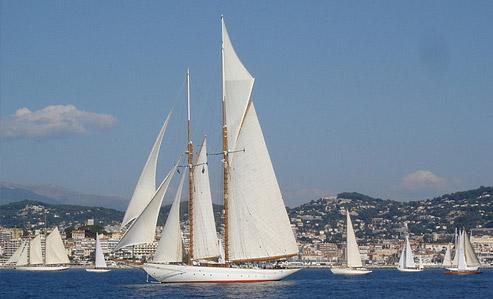 Regates Royales 2020 – Panerai Trophy, figures of an stunning spectacle
Pleasure of sailing, viewing pleasure, dream setting, Regates Royales – Panerai Trophy, success figures :
1500 sailors
200 boats
12 races
100 000 visitors
1 week show
over 20 different nationalities on site
over 40 ans success
Without the aid of automatic guidance instruments, the crews compete with talent and ardor to win the coveted trophy.
Soon you will find the program of the Regates Royales – Panerai Trophy 2019 on the official site:
The village of Régates Royales, relaxation, conviviality and many animations
The village becomes alive for one week with regattas.
Sign up for the info stand and visit the most beautiful sailing boats in the world. Have a drink and relax at the Brasserie des Regates Royales admiring the boats.
Feeling a bit peckish ? Get tempted by the Fish'n Chips or enjoy an iodized tasting with the oyster bar. Strool along the docks and enjoy the musical entertainment, watch the crews compete in tug-of-war…

From our selection of apartments situated around the old port and Le Suquet, you will have an unbeatable view of the fleet and getting down to the quayside takes only a couple of minutes on foot. From there you can study, at extremely close quarters, the exquisite purity of line of these master-works of teak and varnish.
Discover the 7 advantages of an apartment rental during Regates Royales – Panerai Trophy 2019 with Cannes Accommodation
Click here to see your Regates Royales accommodation rental listing