Find a property to rent
MIPIM 2014 Highlights
The 25th MIPIM opened 11th March. Twitter was unanimous:

"... leaving MIPIM inspired" said Foster Lomas founder, William Foster,
"The industry seems to have its MoJo back" rejoiced Natasha Bonugli, Head of Workplace Interiors.
A major event, more than 20 000 participants from 86 countries, and all done without the usual Cannes panoply of Stars and Celebrities.
'Top' politicians attending were :

- Geneviève Forazzo, French Finance Minister for Higher Education and Research
- Motoi Sasaki, Japan's vice-Minister for land, infrastructure, tourism and transport
- Gunter H Oettinger, Member of the European Commission
- not exactly household names!


In a country where many politicians from the President down visit the National Agricultural Show, housing, urban planning, infrastructure... are not passionate social topics? Instead, MIPIM boasts a stupendous array of hands-on practicing professionals from across the property industry - 1400 investors, 1300 developers, 770 consultants...
Delegates work hard:
Working breakfasts start early; lunches are targeted and there is a truly in-depth program of workshops, debates, exhibits....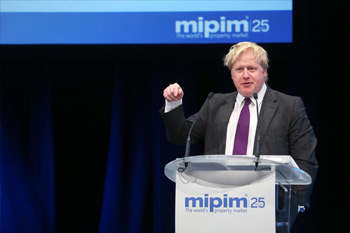 And play hard:
Stéphane Diagana, World champion 400m hurdler, led a GDF SUEZ 'Race for Jobs' along the Croisette and 5km early-morning runs were organized by Land-Aid, the Property Industry Charity;
A 'Boules' battle between 3 British agencies on the famous Allées de la Liberté;
The Babyfoot championship on the City of Berlin stand...
The nearest thing to a real celebrity at MIPIM 2014 was the ubiquitous Mayor of London, Boris Johnson, who gave a Keynote on 'Housing in London'. From MIPIM 2008 he recalled: Shanghai, Mumbai, Dubai...Bye bye London'. Now, he simply said: "Look at us now!".

He brought along the newly-signed Concordat with 60 leading London property developers committing to " stop marketing exclusively in advance to foreign investors - all homes will be offered at least simultaneously to Londoners".
He emphatically reiterated "London loves foreign investment" and mischievously reminded his audience that "London is now the 4th biggest French city with almost 400 000 'tax refugees'."
Russia, Brazil and Turkey were Countries of Honor.


Despite the 'crisis' in Ukraine, Russia seemed to grab the lion's share of favorable attention.
Projects include an aim to replicate Silicon Valley within 10 years just outside Moscow, where University facilities are being developed with MIT and R&D contracts signed with CISCO, IBM, SAP and Microsoft...;
Brazil and Turkey presented a wealth of projects searching finance - not easy with current corruption scandals in Turkey and backlash against soaring World Cup expenditure in Brazil encouraging risks of political-economic instability.
And there were the coveted Awards.
28 finalists for the 24th edition of the MIPIM Awards.

An international 9-member jury, presided by Mike Strong, CBRE Executive Chairman, selected winners in 8 categories.
Singapore headed the pack with 2 Awards for 'Gardens by the Bay' in the Best Innovative Green Building and the Special Jury Award categories, and scooped the Best Residential Development Award for 'The Oliv' residential complex.
Germany and Sweden each won 2 awards.
The biggest 'loser' was the UK, none of whose 4 finalists scored a win.

Photos at https://www.mipim.com/en/the-programme/awards/
The 12th MIPIM 'Architectural Review' Future Project Awards
The twelve-category Awards, celebrate excellence in not-yet-started or incomplete projects. This year, China, the UK and India each won 2 awards, India's double including the Jury's Overall Award for a residential development in Mumbai, an organic high-rise concept echoing traditional Indian courtyard structure. All winners and commendations at http://www.mipimarfutureprojects.com/2014-winners