Find a property to rent
Home page
|
Festival de Cannes 2014 highlights
Festival de Cannes 2014 highlights
Festival de Cannes 2014 highlights

The 67th Cannes Film Festival opened 14 May 2014 and winners were announced at the closing ceremony on 24th, one day earlier than usual due to the now-famous elections for the European Parliament held in France on Sunday 25th.
The Festival poster got a good reception. As the Guardian described it in April: " Marcello Mastroianni, the Italian star of Fellini's 8½, gazes down the lens with insouciant cool. Come May, there will be thousands of people swarming the Coissette (sic!) who think they're this suave."
In January, 'Grace of Monaco' starring Nicole Kidman was announced as the Festival's opening film and Nice Matin, the local French daily, enthused over "The film with the highest buzz and glamour index ... for the most glamorous of film festivals".
The final selection of 19 films competing for the Palme d'Or, chosen from the 1800 visioned by Festival President Gilles Jacob and General Delegate Thierry Frémaux (figure cited by Constance Jamet in Le Figaro), met as usual with a mixed response, but criticism generally remained polite and concentrated on the fact that no fewer than 13 of the 19 directors in the flagship competition had been nominated in previous years. Indeed, from Ken Loach (12 nominations) to 83-year-old Jean-Luc Godard (7), the Dardenne brothers (6), David Cronenberg ....
the old hands were undeniably out in force "New blood runs thin at the front end of Cannes"

- Xan Brooks in the Guardian " Once you're in that club you stay there" - US critic Anne Thompson. To all of which, Thierry Frémaux responded: "Great directors make great films and they will always have a place in Cannes".
All in all, nothing to seriously rock the boat compared with controversies that have frequently raged at Cannes.
The first serious hiccup came on opening night:
Even before the screening, 'Grace de Monaco' was relentlessly battered by a Grimaldi family united in their anger - "utter fiction pointlessly glamorized" - and after the show, it was panned mercilessly and universally by the critics - "purely dreadful; ... a simpering folly" (Guardian), "incredibly idiotic" (Telegraph), "at the limit of inanity" (Telerama)...
Then there was the gate-crasher that missed the official selection but was screened in a marquee on the beach: 'Welcome to New York', inspired (sic) by the fall of former IMF boss Dominique Strauss-Kahn, directed by feisty and outspoken Abel Ferrara and starring controversial Gérard Depardieu as DSK. Le Figaro typified critical reaction: "hesitating between a wild-life documentary on the sexual life of animals and a cheap porno production... Depardieu afraid of nothing, nude, enormous, monstrous...".
Meanwhile, the flagship competition was underway:
'Saint Laurent' dismissed by Peter Bradshaw in the Guardian as "smirking deification... well-made, but bafflingly airless". Mike Leigh's 'Mr Turner', "a wise, grumpy, Dickensian biopic of the great British artist" (TheTelegraph), earning the Best Actor award for Timothy Spall 'Timbuktu' from Abderrahmane Sissako, the Mauritanian director, who explained to admiring journalists that "we become indifferent to horror...I made the film to explain to people a little of what happens there". To the regret of many, the film missed out on an award. Atom Egoyan's 'Captives', which the Guardian judged "a tacky crime drama .... a Palme d'Or contender. Please God, don't let it win".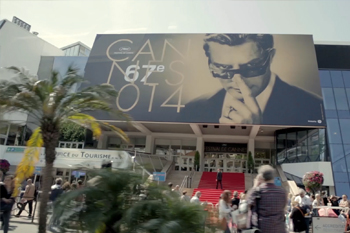 Canadian David Cronenberg presented 'Maps to the Stars', "gripping and exquisitely horrible movie about contemporary Hollywood", a place Cronenberg sees as "suffering a cruel lack of inspiration". Julianne Moore , playing an ageing movie star who is supremely messed up and washed up, clinched the Best Actress award.
'Two days one night' by the Dardenne brothers, an early tip on Twitter and by critics for the Palme and/or Best actress for French favorite Marion Cotillard, finished without an award.
The Jury Prize was split " between 'Mommy', a boisterous Oedipal comedy from Canada's 25-year-old prodigy Xavier Dolan, and the abstract, oblique 'Goodbye to Language' from the 83-year-old provocateur Jean-Luc Godard" (Guardian).
Dolan has already worked successfully through supporting Cannes competitions in previous years, and it seemed a pity to have to share the prize - Cannes does not appear to award 'a career of invention and imagination', which would have been wonderful recognition for Godard.
Finally, the bookies' pre-match favorite, Nuri Bilge Ceylan's Turkish drama 'Winter Sleep', took the coveted Palme d'Or. A brooding, 3 hour 30 minute drama of a wealthy retired actor's search for self-knowledge in a remote community in rural Anatolia; the film split critics - was it a revelation or an endurance test?


We haven't even talked of the riches, and disappointments, to be found in the marvelous supporting competitions, Un Certain Regard, Directors' Fortnight, The Queer Palme ...
Start making your plans now for next year's edition of what is probably the world's greatest Film jamboree....