Find a property to rent
Cannes Lions 2014 Highlights
Cannes Lions 2014 Highlights

The 61st Cannes Lions International Festival of Creativity came to town from 21-27 June 2014.


It is still far and away the "world's only truly global meeting place for those passionate about creativity in communications".
Top professionals come to be inspired and to immerse themselves in the best the industry has produced in the last 12 months, as well as to join thought-provoking discussion sessions led by some of the industry's biggest names.
People such as:
BBH founder, John Hegarty, suggesting " the Festival is in danger of losing its way, the 'Digital Talibans' risk ignoring traditional forms of advertising at their peril." He claimed that TV is experiencing a golden age, citing the wildly successful John Lewis Christmas spots in the UK, "which could have been made 30 years ago, but beat all comers".


Unilever's CMO, Keith Weed, claiming "mobile phone marketing is the key to reaching remote areas".


John Winsor, CEO of Victors & Spoils and Chief Innovation Officer at Havas, warning " the Festival felt more like the Consumer Electronics Show in the south of France... Awards shows like to say that awards are good for business, but whose business? Certainly, winning a Cannes Lion is good for an agency's business or a creative's career, but does it make a difference to the brands that pay for it?".


Lemz co-founder Mark Woerde on how his Dutch agency developed virtual reality software 'Sweetie' for charity Terre des Hommes to dupe online pedophile predators into revealing themselves - a campaign that won the agency a clutch of awards at the Festival, including the Grand Prix For Good.


The Wall Street Journal's 'CMO Today' offshoot commented provocatively in its Cannes Lion wrap-up: "Another major trend was very overt overtures from Silicon Valley giants trying to convince top advertising creative executives that Google, Facebook, etc. were ideal outlets for big beautiful artistic ads, despite their mixed reputations on that front. Cannes attendees were also bombarded with messages about ad tech and big data—and how, indeed, these two trends were also all about creativity. It's enough to give somebody a hangover!"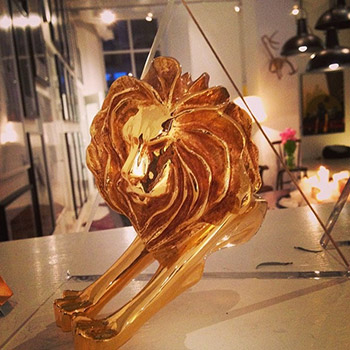 Maybe navigation through the new communications universe is fraught with difficult decisions.... It will be interesting to see how things pan out before next year's show!
For the moment, let's take a glance at the last 12 months in the form of the coveted Cannes Lions awards:
Branded Content and Entertainment: This year no Grand Prix was awarded, but there were (by way of compensation?) 11 Golds across the 14 sub-categories. The jury, chaired by Doug Scott, president & founder of Ogilvy Entertainment decided no-one had "put together the perfect cocktail".
Advertising Film: The explosion in internet-only ads led Cannes Lions to hand out two Grand Prix awards in the film category: one for commercials aired on television and one for those only published online. The former, was won by the 'anti-Christmas' campaign for Harvey Nichols, developed by adam&eveDDB London, daringly encouraging viewers to "splurge on themselves and scrimp on family"; the latter by "Epic Splits"(Forsman & Bodenfors, for Volvo), a global viral hit featuring Jean Claude van Damme.
Titanium & Integrated: The Titanium GP went to Dentsu's campaign for Honda "Sound of Honda/Ayrton Senna 1989", whilst the aforementioned Harvey Nichols film "Sorry, I spent it on myself" took the Integrated GP. This latter film swept the board this year, taking 4 GP's in all.
Innovation Lions: In its second year as a category, Innovation handed out 4 Lions, including 'Babolat Play' from Ogilvy France, an app communicating with a device imbedded in a tennis racket handle to provide analysis of shots.
Creative Effectiveness: V/Line, an Australian train operator, used the extraordinary power of guilt to motivate young Victorians to leave the bright lights of the city to visit friends and family in the upstate bush country. The trains hardest to fill are those travelling against commuter traffic. Mccann Melbourne and its client beat their objectives for increased off-peak business One Guilt Trip at a time! What do you think of that?
Just a glimpse of the excitement developed by Cannes Lions and the challenges it faces
see you there next year!