Find a property to rent
MIPTV highlights 2015
MIPTV 2015 is "the world's most-established TV and digital content market. ", say organizers Reed MIDEM.
In fact, it's "TV ON YOUR TERMS" - not old-hat linear TV - now it's a 4-in-1 event:
The creators', dealers', financiers', distributors', wildly international jamboree,
aimed at all screens, all supports, scripted and unscripted formats, branded content,
program-your-own-viewing, monetized markets.
L'Express, the French weekly, summed up just one aspect, TV Games, that "weighs in at 2 billion euros: Ideas that are crazy, grotesque, extreme, terrifying... "
-priests in quest of their 'soul sister' (Pray for Love, Sweden)
- shark-infested seas (The Raft, USA)
- trek to Gay Pride in Buenos Aires, a straight father & his homosexual sons (Father Pride, Holland)
-about-to-give-birth women in the maternity ward competing for quiz prizes for baby (Labor Games, USA)...
Content was ubiquitous and means, above all , story-telling.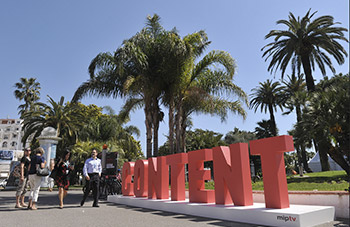 For Phil Craig of Discovery Channel: "...film-making with a purpose - in Life of Dogs, a world-class film-maker, a populist subject, a really great story, all sometimes been lacking from natural history programs" and he has "110 hours to fill and 20 series to commission"!
In the hard news sector, Al Jazeera had a showcase ad at the entry to the Palais ("in 2050, 30% of the world's population will live in slums"), but all the other traditional international news media, CNN, France 24, BBC World, Russia Today... were absent or very low-key.
Instead, emphasized Eric Scherer from France Televisions, "recent-comers like Vice and Vox showed that the impact of new media on broadcasters is now in full swing, video is growing, the recent Obama one-hour interview on Vice is a major policy shift and everything's available on mobile, Instagram...".
All branded and monetized of course.
Listen to National Geographic's Tim Pastor: "In a world where 50% of 18-32 year-olds browse Internet while viewing TV, brand addiction is a necessity".
Or Oliver Gers from Starcom MediaVest Group: "Millennials aren't watching classic TV advertizing; branded content offers the most effective way of targeting them" and goes on to explain for the uninitiated: "Content tells people what your brand stands for; Advertizing tells them what you want them to buy".
Marriott Hotels got a rapturous reception as MIPTV's Brand of the Year for "outstanding use of content in its global marketing campaigns Two Bellmen and French Kiss, which is set to premiere worldwide in May this year" (AFP).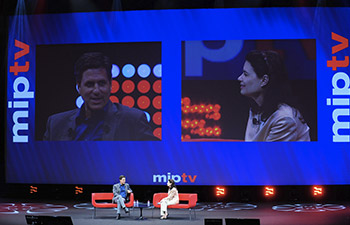 And Reed MIDEM Head of TV Division, Laurine Garaude gave a glimpse of the near future: "Children are in the front-line... their viewing habits presage the TV landscape of tomorrow as they travel back and forth across multiple digital experiences, expecting new and original content everywhere they go."
AwsomenessTV founder & CEO, Brian Robbins hammers it home: "Traditional TV viewing among teens and tweens is not dying, it's dead."
And Bret Baker, star creator of video parodies with Maker Studios, went further: "It's all mobile, continually on the go, 70% of my views are on mobile; the kids aren't even looking up!"
For Yannick Bollore, boss of Havas, "Driven by consumer data, we can address the right type of content to the right person on the right device at the right time» and, highlighting S.Korea as harbinger for the future: "There, with 5G adopted early, for consumers it's now not just 'mobile first', it's 'mobile only'."
To wind up on an ominous note:
Maaryten Meijs, MD of Dutch format-production giant TALPA, discussing "content that entertains millennials & their parents alike", introduced the concept of "Augmented Reality superimposed on live transmission of reality services". A sort of photo-shopping applied to (real) life?
Perhaps next year, or the one after, our event will be called MIPMULTISCREEN
For sure it'll be even more exciting, if that's possible
GET YOUR ACCOMMODATION FIXED NOW - CENTRAL, FLEXIBLE, PRIVATE, and VALUE-GUARANTEED
with