Find a property to rent
Home page
|
Festival de Cannes 2015 highlights
Festival de Cannes 2015 highlights
Festival de Cannes 2015 highlights

The 68th edition of the Cannes Film Festival
1st Festival for Pierre Lescure as President
under the luminous & serene look of Ingrid Bergmann
"Cries and whispers"
Festival chief, Thierry Frémaux, decided to "call time on the era of gala-glamour"; The Guardian called it "pushing back Hollywood (a little)" , with a French socially-concerned film as Festival opener. The Observer's ingenious headline, "Opening film whelms", typified critical reaction. M Frémaux also decided to ban 'selfies' on the red carpet. That lasted hardly 24 hours - first culprit was Salma Hayek, followed by the self-obsessed multitude.
On Festival eve, Catherine Deneuve regretted "... lack of stars - all celebrities, too much social media exposure, no space for dreams". She wants «More glam, less Instagram" said the Telegraph. You thought she had a point when you looked at the Festival Poster: the face of Ingrid Bergmann, in B & W on an all-white background, "... modernity, grace & simplicity" (local mag 'Infrarouge'). That was in the 1970's.
But two immense stars gave the 2015 rebuttal to Deneuve:
Cate Blanchett, icy, simmering, elegant, in Todd Haynes' Carol.
and
Charlize Théron was in Cannes for out of competition Mad Max: Fury Road.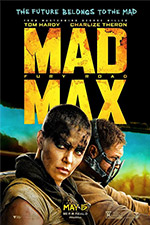 On the Palais steps, she turned superbly in a clinging lemon-yellow gown, flanked by colleagues in sober evening wear and called imperiously to boy-friend Sean Penn below.
"Here's looking at you, Sean" was the Telegraph's caption to its magnificent front-page photo by Anne-Christine Poujoulat. Buy that picture - see a real star - it should be next year's Festival Poster!
George Miller's 4th Mad Max wowed critics (all except the Daily Mirror: "visually spectacular, desperately hollow" and Télérama: "Paris-Dakar in fancy dress"):
RTL Radio: "feminist film where no-one expected it - Tom Hardy held in check by this desert Amazon"
Le Figaro: «Pure adrenalin!"
The Observer: "The, Festival's real curtain-raiser".
There were the losers:

-Sea of Trees, Gus Van Sant - Universally trashed

-Our little Sister, Kore-eda - "Kore-eda lite" (Indiewire)

-Marguérite & Julien, Valérie Donzelli - "Told with the grace of a hippopotamus". (Le Figaro)

The 'maybes / maybe nots'

- Mia Madre, Nanni Moretti - tale of a film director juggling her teenage daughter, formidable ailing mum & needy Hollywood star.
"Warm, witty & seductive" (Guardian)
"A gender-changed autobiography? (La Presse, Montreal)
"Moretti's soggy melodrama ..." (Telegraph)
- The Lobster, Yorgos Lanthimos - in a not-too-distant future, singles are arrested, given 45 days in a hotel to find a soul-mate, or be transformed into the animal of their choice.
"A serving of some seriously surreal seafood; Never seen anything like it before " (Telegraph)
- Mon Roi, Maïwenn - Complex and sulfurous story of love and separation.
«Unlikely couple, meet cutely, have a kid, squabble over separation... it repeats the same tropes over and over for two hours..." (Indiewire)
"Bloated, vivid - quintessentially French... less than original"
BUT The Telegraph liked it!
-Louder than Bombs, Joachim Trier. Family members' different viewpoints on an overwhelming event.
"Tiresome Euro-American pudding... Silly, directionless ..." (Guardian)
Indiewire: "Beguiling & fascinating... complex family drama done right"
"... more contemplative than heartfelt" (Hollywood Reporter)
-The Assassin, Hou Hsiao-hsien. Taiwanese martial arts, in paradise...
The critics all agreed: "Epic visual poem" (Indiewire), "Best-looking this year" (Irish Times), "Beautiful" (Express), "Wonderfully shot (Guardian)... BUT, in the same order, they also agreed: "Geologically slow", "Frustrating", " a bit of a drag", " elusive meaning " ....
And potential winners(?)
-Carol, Todd Haynes' adaptation of a 1952 novel by Patricia Highsmith about a love affair between virginal shop-girl and beautiful older married woman.
The Guardian typified reaction: "creamily sensuous, richly observed, outstandingly intelligent..."
Telegraph, tweeted from the cinema: "...hard to process just how heart-bulldozingly great Carol is..."
"Cate Blankett ... from assured elegance to total anguish with stupefying precision" (La Presse, Montreal)
-Tale of Tales, from Matteo Garrone - A pitch black, free adaptation of 17th century fantasy tales by Giambattista Basile.
The Guardian team split: "A knackering load of old toot" (Henry Barnes)
"Fabulous in every sense" (Peter Bradshaw )
The Telegraph saw "a ready-made cult item... Python meets Passolini"
And, Hollywood Reporter "...underlying horror, unnerving even for adults"
-Son of Saul, a highly-acclaimed first film from Hungarian Lazlo Nemes, about concentration camp prisoners on body-disposal duty.
Raft of 5-star reviews. The Guardian expected it "to go home with a prominent prize"
The Observer: "If it's not the Palm, it certainly deserves to be widely seen and talked about"
-The Measure of a Man, Stéphane Brizé. A foray into social drama. Vincent Lindon as unemployed father trying to make ends meet.
Evening Standard: "Grave, compassionate, committed - and sadly dull"
Variety: "Lindon gives a master class in understated humanism... his towering grace"
- Sicario, Denis Villeneuve. Blood-thumping foray into murky underworld of Mexican drug cartels.
The Times: "ruthless, unflinchingly violent and cool-headed "
Le Figaro: "stupefying thriller... serious claim for a major prize".
- Mountains May Depart, Jia Zhangke. Futurist drama with a view on globalization.
"This giddily ambitious new movie" (Guardian)
"Flawed but exquisite...a full-bodied emotional experience" (Hollywood Reporter)
"...luminous performance by director's wife, Zhao Tao" (Variety)
- Youth, Paolo Sorrentino. L'âge revu par un immense trio, Caine, Keitel and Rachel Weisz
"diverting, minor work...brilliant flourishes" (Guardian)
"lifetimes of depth...stunning compositions... towering performances" (Variety)
"audience between boos and cheers, but for me the standout of the festival thus far" (Independent)
- Dheepan, Jacques Audiard. A former fighter in the Sri Lankan civil war trying to make a new life in France.
"Tamil Tiger loose in the urban jungle ... powerful thriller" (Guardian)
"tremendous charisma of the performers" (Variety)
"one of the highlights of this year" (Indiewire)
"a pleasure ... in the hands of such a confident director" (Hollywood Reporter)
BUT Nice Matin was a dissenting voice: "...sabotages his best intentions with a grotesque finale"
- Macbeth, Justin Kurzel. Blood-soaked & haunted interpretation of Shakespeare classic.
"Cotillard & Fassbender excel" (Variety)
"is this as good as Shakespeare on film gets?" (Telegraph)
"visually overpowering" (Irish Times)
The AWARDS
In the end, the Coen Brothers' Jury managed to surprise almost everyone.
The Palme D'Or went to Dheepan
The choice of Jacques Audiard's film stirred no real animosity, but no real excitement either:
"Not his best film" - said El Païs, The Guardian & several others, whilst remarking that it was "a workman-like job", "not a master-work, but lucid and true"...
" weak apotheosis in an insignificant selection" - Le Nouvel Observateur
"Italian defeat at Cannes" - La Corriere della Sera (regrets for Paolo Sorrentino's Youth?)
Perhaps the Los Angeles Times best captured critics' slightly bemused feelings:
"Did the Coens want to hail the career of Jacques Alliard rather than this film?"
The films that had dominated Cannes talk during the final week were all compensated:
-The Lobster (Surreal black comedy) took the Jury Prize (Cannes' 'bronze medal')

-The Assassin (meditative pace & pure beauty) won Best Director for Hou Hsiao- Hsien, overcoming mixed critical revues

-Son of Saul (iconoclast Holocaust drama) took the Grand Prix

-Carol (lesbian romance from a Highsmith novel) got Best Actress for Rooney Mara (the young innocent to Cate Blanchett's older married woman), shared with Emmanuelle Bercot in Mon Roi and seems destined for more at the forthcoming Oscars
And Vincent Lindon in The Measure of a Man completed a great year for France by taking a very popular Best Actor award.
Others that had collected critical enthusiasm at their showings - Sicario, Mountains May Depart, Youth & Macbeth - all sank somewhat inexplicably without trace by the end of the week! It will be interesting to see if they manage to rise from the ashes on the distribution circuit.
And this was 'just' the main competition - you get 6 other 'festivals' within the big one, all with some great films.