Find a property to rent
MIPIM 2016 highlights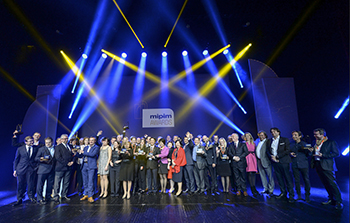 MIPIM, the International Real Estate Show for Professionals, was in Cannes from 15-18th March.

More sexily known as The World's Property Market and with its 2016 bye-line 'Housing the World', the event attracted over 26000 visitors, 10% more than in 2015.
The early MIPIM MOOD SURVEY showed a 56% majority of participants "feel better about business, but the cloud is rising prices". There was no lack of support for this concern from many eminent speakers:
Robert (Bob) White of Real Capital Analytics: "Prices rising excessively… all the top global cities have seen 50% year on year rise in office sector… yields are going to level off in big cities… tremendous shift of capital into residential & student accommodation". And he added another reason for a cautious approach: "Everywhere this week, I keep hearing the B-word and the T-word – Brexit and Trump!"
Bruce Ritchie, Chief Exec of Residential Land, who has attended MIPIM for the last 12 years, speaking to Property Week explained: "The UK residential market is 5 times the scale of the commercial market… over the years a complete increase in the number of people at MIPIM for residential purposes… a decreasing % of owner-occupied homes in London, some are accepting they may never get on the (property) ladder." As for the B-word, he commented "Everyone's in a panic about it, but the day after we'll all be saying what was all that fuss about"
James Kinsey, President of Kinsey Capital LLC, a respected operator and trusted advisor in the NY property market said: "The NYC residential market is piggy bank to the city's budget".
Networking is the real name of the game at which MIPIM excels.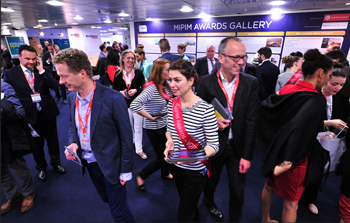 From the opening night cocktails, through specials like a Flash Mob on healthcare, the ESSEC Business School's Round Table on 'Start-ups in the Digital Economy – A New Deal for Real Estate in Urban Areas',and on to a real first this year, the Women's Networking Cocktail – Influencing the Real Estate industry.
For participants in another 'first-ever' this year, the award for the best start-up in Global Real Estate & Urban Management, the networking aspect was of enormous importance:
Jason Wong is creator of Urbismart, a start-up B2B meta-platform, combining long-distance & last-mile delivery for store replacements & e-comm home deliveries (the 'one truck in one street principle'). He expressed the excitement of all participants: "Exposure and reach of MIPIM is unparalleled, we established world-class networks immediately we walked off the (presentation) stage".
Urbismart came out as winners of the intensely competitive search for the year's best start-up award.
That is just one of the coveted annual MIPIM Awards, chosen for each of a dozen project categories from more than 200 submissions. France was the only country scooping multiple awards, 3 this year:
Best Mega Future Project for DUO-PARIS, a twin tower development with the ambition of "reinventing Paris" in advance of its time, according to developer Ivanhoé Cambridge.

Best Shopping Centre for LES DOCKS VILLAGE in Marseille.

Best Office & Business Project for the #CLOUDPARIS Business Centre
This triple added force to the declaration/plea of Emmanuel Macron, French minister for the Economy, Industry & Digital as he formally declared MIPIM open on the first day:
"France is back – so come back and invest".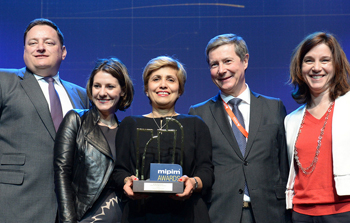 Paris current trails a distant 3rd place behind London & New York in the list of destinations for global cross-border investment.
Anne Hidalgo, Mayor of Paris, was there the same day as Emmanuel Macron, no doubt with the city's candidature for the 2024 Summer Olympics in mind. Indeed she took part in the debate "Pulsar effects of Hosting International events – Driving Urban Strategy" and said Paris has learnt lessons from London's successful Olympic bid.
There were a lot of sessions on innovation, including:
Innovation Districts, a new urban model emerging in the USA, a clustering of anchoring institutions, companies & start-ups in city centers – "Vibrant mixed-use neighborhoods".
Drones and Building Information Modelling combining in "Flying Superintendent" an Illinois University platform detecting actual and potential issues on large construction sites.
Urban Farming on rooftop city space from Switzerland.
And much, much more
If you're an actor in the global property universe,
right where it should be,
no further than a 10-minute walk from the Palais des Festivals