Find a property to rent
MIDEM 2013 highlights

A couple of weeks after the closing ceremony of the 2013 MIDEM, we can draw up a short summary of the main features of the music industry's 46th showpiece event….

MIDEM's new Director, Bruno Crolot (ex Orange & Sony Digital), struck an optimistic note at the start:

"After 10 years of severe crisis, the sky is clearing… The golden age of recorded music has gone forever, but legal downloading platforms and streaming are forming a significant revenue source… Backed by live performance income that is holding its ground… Together with developing interest from brands…"

Le Monde, on 29/01, headlined with a curious metaphor
"The DNA of the Cannes MIDEM is resisting and won't countenance resignation" , adding "everyone is searching for the new business model and value chain".
The reporter finished by observing "Creation is no longer threatened by cigar-touting producers, but by the giants of internet."
Indeed, one of the main themes this year was the continued battle on licensing (intensified by the Myspace refusal to license their works) and what has become identified as the 'Google Issue'. The internet "monster" carries the can for Facebook, Apple, Amazon et al - its own encouraging licensing and revenue generating activities via YouTube & Google Play are forgotten or ignored.
Input to the controversy included Birdy Hunt lead singer, Marc, with a defiant "We make the music!" and Jean-Michel Jarre with a plea: "We make them a living – We've got to find an arrangement!"
Holgar Christoph, VP Digital Sales with Universal Music, answered his "Is digital a blessing or a curse for the music business?" with a reasoned "Yes, increasing consumer democracy, boosting direct fan / artist relationships, ensuring quicker time to the market, but, of course, tougher and more complex competition."
And there was Michel Barnier, European Commissioner for Internal Market and Services, leading a keynote on "Music for Everyone" and getting a better reception (Songwriter and journalist Helienne Lindvall saying that "it's good to hear a voice from Brussels that understands and supports authors and songwriters, because sometimes we feel a bit left out in the cold.") than the French government Minister for Culture and the Secretary for the Digital Economy, who both appeared to come empty-handed and without encouragement to this year's MIDEM.
Other key themes this year were:
Local becoming Global:
Deezer streaming in 182 countries and local artists accessing global audiences
YouTube with 5 billion hits for S.Korean music videos in 2012
Edna N'Rhesa, Indonesian singer: "New experience…to get involved in discussions on the music industry worldwide…. Learn so much and take it back to our country".
Chris Wiltsee of start-up Bandpage, helping bands to market themselves on Facebook.
Sebastian Metrot from Ya Sound, another start-up, aiming to revolutionize radio media by making it ultra-easy to create a radio on your i-Phone!
Artists making their voices heard with increasing force and maturity:
The 'Google Issue' did not stop classical music's icon Chinese pianist, Lang Lang, from making his stand with an optimistic "…music and technology go hand in hand - both are limitless – they make good partners".
Blink lead singer, Mark Hoppus, shared his experience with music entrepreneurs in the stimulating 'Direct2Fan Camp' sessions, aimed at helping artists looking to build and leverage a fan community to accelerate their career.
Start-up innovation:
Sunday's Music Tech Meetup where the MidemLab contest featured 30 of the most impressive start-ups, including
InstruMagic, enabling anyone to play the guitar, with a new 99-cent App and pre-set songs, and Joytunes providing lessons on your own instrument via an App.
Jamplifly allowing fans to amplify buzz on favorite bands.
Stageit – Direct to consumer sales and content monetization. Artists can set up impromptu concerts when and where they like via WebCams. This latter entrant operates in the growing area of Crowd-funding and Kick-Starter Campaigns, aimed at getting bands started and solving their cash-flow problems by deepening fan-artist relationships and linking 'tech' and 'live'.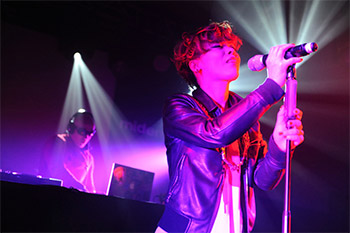 The 3rd Midem Hack Day, where 30 developers, hackers and creators spend 48 hours imagining new generation music apps, the Midem Classical Embassy, where young artists get a chance to showcase their talents, Visionary Monday, Midem Off…., imagination thrives!

As David Balfour of 'Record of the Day' said at wrap-up time: "It's the key event of the year. Maybe there are fewer people, but all the important ones are here."

And Emily White of Whitesmith Entertainment: "Midem is incredibly relevant, this year it has a deeper international base and I go away with a whole new tech platforms scene in mind".